EU-Africa report webinars: Part IV - Southern Africa
11.02.2022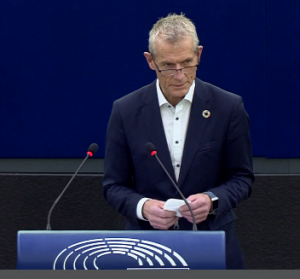 European Parliament, INTA Committee Report on EU - Africa Trade and Investment Relations
Rapporteur MEP Helmut Scholz, EU - Africa report webinars:
Part IV: Southern Africa
Wednesday, February 16th, 2022, 18.00 - 19.30 Brussels time
Interpretation into EN and FR
Zoom Link: : https://zoom.us/j/91043539087
Speakers:
(tbc) Embassy of Botswana to the EU (SADC Coordination)
(tbc) Embassy of South Africa in Geneva (IPR)
Ms. Hameda Deedat, The National Labour and Economic Institute (NALEDI, Braamfontain, COSATU House, South Africa): "Analysis of what the current partnership between SADC and EU means for workers in Southern Africa, also in the light of AfCFTA and the shortening time left to achieve the SDGs by 2030, and ideas for improvement."
Ms. Souad Aden-Osman, Executive Director of the Coalition for Dialogue in Africa (CoDA, Addis Abeba, Ethiopia) "The all-African perspective in relation to the achievement of the AfCFTA as well as our common task to achieve the SDGs by 2030, in EU - Africa trade relations."
(tbc) Mr. Tirivangani Mutazu, African Forum and Network on Debt and Development (AFRODAD, Harare, Zimbabwe) "An evaluation of the ESA - EU Economic Partnership Agreement and the negotiations to make it a comprehensive EPA, in the light of the debt situation of countries in the region."
Ms. Frances Davies, Zambia Alliance for Agroecology and Biodiversity (ZAAB): "The trade relationship between the EU and Southern African countries with a focus on agriculture and recommendations for change."
For comment are invited:
MEP Joachim Schuster, Standing Rapporteur for EU - SADC trade relations of the European Parliament's Committee on International Trade
MEP Saskia Bricmont, Standing Rapporteur for EU - ESA trade relations of the European Parliament's Committee on International Trade
Moderator: MEP Helmut Scholz, rapporteur of the report on EU - Africa trade and investment relations of the European Parliament
Co-host: Dr. Arif Ruezgar (Rosa Luxemburg Foundation, Brussels Office)
Background information on the represented organisations:
NALEDI was formed in 1993 and carries out labour and economic research. NALEDI's mission is to conduct policy-relevant research aimed at building the capacity of the labour movement to effectively engage with the challenges of the new South African society. Besides research, NALEDI's work also includes managing multi-institutional projects at national and international levels. NALEDI's policies and research priorities are determined by a board of directors who include senior leaders from the Congress of South African Trade Unions (COSATU), academia and government.
CoDA was established in Addis Ababa (2009) as an independent and international but African-owned forum which identifies and discusses issues of importance to Africa's development within a global context. It is a think tank that advocates for the continent, brings together a range of stakeholders to promote dialogue and provides a platform for African voices to be heard. It is policy-oriented, and works in collaboration with other African and international organizations addressing issues of Africa's security, peace, governance and development. CoDA operates as a special initiative of the following Pan-African institutions: the African Union Commission (AUC), the African Development Bank (AfDB), the African Import-Export Bank (AFREXIMBANK) and the United Nations Economic Commission for Africa (ECA).
AFRODAD is concerned with ensuring that the African continent does not slide back into being heavily indebted and is focused on influencing African governments to institute and implement policies and practices for sustainable development and eradication of poverty through development and implementation of sustainable debt policies; transparent, accountable and efficient mechanisms for mobilisation and utilisation of domestic resources; and effective use of international public finance.
ZAAB is an advocacy network of faith, farmer and civil society organisations, committed to a common cause of realising a just and sustainable food and agro-ecological system in Zambia.