Konferenz: Food & energy shortages: are trade and investment deals the solution?
22.04.2022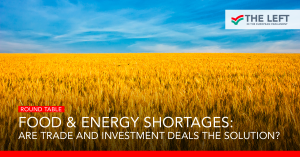 27 April 2022 16.00–18.00 CET
Room 6Q1 and online, European Parliament
https://left.eu/events/food-energy-shortages-are-trade-and-investment-deals-the-solution/
[The event will be held in hybrid format]
Interpretation available in EN-SP-FR-DE
The war on Ukraine is unfolding in a complex international context. The ongoing climate crisis and the devastating impact of the COVID-19 pandemic had already laid bare the fragility of today's hyperglobalised world. The meltdown of supply chains as a result of the war has exposed millions of people to food shortages. The world is on the brink of climate breakdown and the war has accentuated the need to accelerate the renewable energy transition by breaking free from fossil fuels.
What is the role of trade policy in this context? Is signing new trade and investment agreements part of the solution? Or can it make things worse?
Join MEPs, academics, social movements and CSOs in a round table discussion on the role of the current international trade and investment regime in relation to these issues and what alternative vision of international trade is needed to achieve food sovereignty and a just energy transition.
PANELLISTS
Andoni García Arriola, La Via Campesina, Basque Country
Helmut Scholz, MEP, The Left in the European Parliament, Germany
Jeronim Capaldo, UNCTAD, Italy
Karin Nansen, Coordinator REDES AT Uruguay, member of Executive Committee for Friends of the Earth Latin America and the Caribbean
Kyla Tienhaara, Assistant Professor in the School of Environmental Studies and the Department of Global Development Studies at Queen's University, Canada
Lori Wallach, Director of Rethink Trade at the American Economic Liberties Project, US
Omar Aziki, ATTAC / North African Network for Food Sovereignty, Morocco
Pascoe Sabido, Researcher at Corporate Europe Observatory, UK
Shefali Sharma, Director of the Institute for Agriculture and Trade Policy (IATP) , Germany