CONFERENCE: For environment, farming and jobs - STOP EU-MERCOSUR
03.12.2019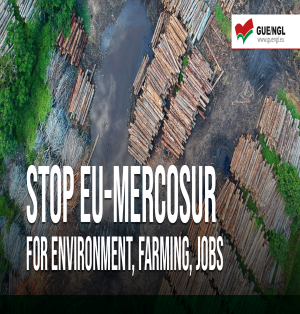 CONFERENCE
For environment, farming and jobs
STOP EU-MERCOSUR
EUROPEAN PARLIAMENT, BRUSSELS, Room JAN 6Q2
THURSDAY 12TH DECEMBER 09:00 TO 13:00
Workshops 14:00 to 16:00, and final plenary 16:00-17:00
Interpretation: FR DE NL EN ES PT FI SV CS
_____________________________________________________________________
09:00 Introduction:
Manon Aubry, co-president GUE/NGL and Maria Fernanda Vallejos, Member of the Parliament of Argentina
State of play: MEP Helmut Scholz, coordinator INTA for GUE/NGL
First panel: The defense of environment
Moderation: GUE/NGL MEP (ENVI Committee)
– Prof Larissa Mies Bombardi, University of Sao Paolo
– Karine Jacquemart, Foodwatch France
Second panel: The defense of sustainable agriculture and public health
Moderation: MEP Luke Ming Flanagan (AGRI Committee)
– Colm O'Donnell, President of the Irish Natura and Hill Farmers Association. (INHFA).
– Roberto Baggio, MST Via campesina, Brazil
– Marine Colli, INTERBEV
Third panel: For decent jobs and diversified economies.
Moderation GUE/NGL MEP, (ITRE Committee)
– Andrés Larisgoitia, CTA Confederation (Argentina) and Coordination of Mercosur Trade Unions
– David Cayla, Economist
– Klaus Ernst, MP Die Linke, trade unionist, Chairman of the Committee on Economic Affairs and Energy of the German Parliament
12:40: Conclusions: MEP Emmanuel Maurel (INTA Committee)
13:00: Lunch break
14:00 – 16:00: 3 Workshops in parallel
(in EN & SP)
Workshop 1: The way forward to STOP EU-MERCOSUR
Room: P1C51
Moderation GUE/NGL MEP
Introduced by Carlos Sanchez Mato
Worshop 2: EU-MERCOSUR and liberalization of services including maritimes and financial
Room: PHS 5C088
Moderation MEP Helmut Scholz
Introduced by Tanja Buzek, Workers' Group in the European Social and Economic Committee (EESC) and Verdi.
Workshop 3: Analysis of the impact assessment requested by Commission
Room: PHS 5C003
Moderation MEP Emmanuel Maurel
Introduced by Mathilde Dupré, Velben institute
16:00 – 17:00: Final plenary to report from workshops and conclusion
Room 1C51
Register now: http://www.opinio.europarl.europa.eu/opinio/s?s=A1212
WWW.GUENGL.EU