EU trade rules help maintain Big Tech's monopoly - new study
14.04.2023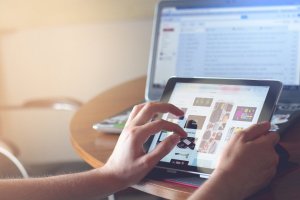 The same EU that is advancing new laws governing the digital economy is simultaneously promoting a digital trade policy that contradicts, and would severely constrain, public interest policymaking in the EU and beyond according to new research launched today.
"EU Digital Trade Rules: Undermining attempts to Rein in Big Tech" is commissioned by The Left in the European Parliament and authored by independent researcher Deborah James, Director of International Programs at the Center for Economic and Policy Research.
This study shows how Big Tech corporations are working to constrain the ability of the EU's democratic bodies to regulate their activities in the public interest through "trade" agreements, which are binding and permanent. This research analyses the most dangerous clauses included in the EU digital trade agenda, such as "free" flow of data, bans on data localisation and non-disclosure of source code. It identifies ten reasons why it will be harmful for European society, Europe's Green Agenda and democracy at large.
Key data:
Big Tech pays the least taxes and is the least regulated. Digital trade rules will undercut the EU's ability to tax tech giants
EU digital trade policies put handcuffs on governments' capacity to regulate Big Tech
EU's digital trade rules will threaten EU's regulations of artificial intelligence and data usage
EU digital trade will widen the power of Big Tech over platform workers
Digital trade policy will hamper the EU's digital industrialisation and SMEs
Helmut Scholz, MEP (Die Linke, Germany) comments on the study: "Is the EU Commission really serious about controlling BigTech in the interests of citizens? Does the Commission deliver on the urgent need to establish accountability for artificial intelligence? At a moment when we are seeing the need for artificial intelligence accountability, the EU's digital trade proposal agenda could limit government actions to hold tech giants accountable".
Emmanuel Maurel, MEP (La France Insoumise, France): "With its digital trade proposals, the European Commission is putting once again corporate profits over consumers' protection. EU digital trade policy will shield US and Chinese tech giants from necessary regulation in Europe and worldwide. EU trade agreements will derail the advances we have made with the Digital Services Act, the Digital Markets Data Act and the Artificial Intelligence Act."